The Breeze - Issue #3
Climate + coronavirus
The Breeze is a free weekly email about climate tech investing.
💌 If someone forwarded this to you, sign up!
🐦 Follow me on Twitter for climate, tech and investing.
🗣 Feedback or news tips? Email me at tommy@jetstream.io.
💸 Accredited investors may apply to join my Jetstream Syndicate.
---
This week, as the coronavirus pandemic rages on, I've become more acutely aware of the climate crisis. They're both invisible killers affecting hundreds of thousands of people today. Scientists warned us about them, but we didn't prepare. Both crises are here now, and our responses have been slow and inadequate. It's a wake-up call.
With climate, we know we have to eliminate emissions and remove carbon from the atmosphere. We have an opportunity to re-imagine and build the future we want to live in. Now we need to invent the systems and incentives to get there. It's an exercise in creativity and will. I encourage you to think of ways that you can apply your skills and resources to help.
Joint crises
On Wednesday Kamala Harris asked Peter Gaynor, administrator of FEMA, how the organization would respond if another emergency like California wildfires or an earthquake coincides with the coronavirus pandemic:
"So I asked him, what is the plan? Is there a formal policy to address this issue?" Harris told The Chronicle. "And he basically said, 'We're learning as we go' and, 'This has never happened before.'"
This is especially troubling because we didn't have a drop of rain in California in February, which makes an early and long wildfire season more likely. We're not ready for that.
In a tweetstorm about coronavirus and climate, David Wallace-Wells, author of The Uninhabitable Earth (now in paperback), shares:
Our systems and institutions are vulnerable. An estimated 2.25M Americans filed for unemployment this week. Parents are skipping meals so their kids can eat. More of these sad stories will come out in the coming weeks.
We can build solutions and change our systems. In the face of coronavirus and climate crises, we need to take action now. I'm highlighting the 2 issues above because we can't simply go on with business as usual or expect things to return to normal. We need leadership and action from individuals at all levels.
I'm finding that I can personally be effective in helping investors move capital into climate tech startups. It's a small piece of a giant puzzle, and it's taken me 5 months to get here from when I first decided to try. What are you finding that you can do? How are you thinking about how you can apply your capabilities to the climate crisis? I invite you to email me your thinking.
Climate solutions
It has been heartening to me to see the tech community engage and respond to COVID-19 concerns. Balaji Srinivasan is a critical source of science-based updates. Elad Gil shares updates for startups. Big tech companies are making products free, sending test kits and face masks, and pledging millions to help small businesses. VCs like Matt Ocko (DCVC) and Seth Bannon (50 Years) post about how their respective portfolio companies are researching cures.
Tech alone cannot cure COVID-19. Science can. To get to scale, we need a multidisciplinary approach including tech + biotech:
The climate crisis needs a similar multidisciplinary response. A 2018 paper in the Stanford Social Innovation Review called The Investment Gap that Threatens the Planet outlines dozens of climate tech solutions that require more than SaaS and business model innovation.
When they are broken out by sub-sector of investment, we see that venture investors have also moved away from investing in new hardware- or science-based solutions in recent years; this capital is now primarily flowing to software or business-model solutions… However, society will likely need new hardware and new science-based innovation solutions to effectively combat climate change. Solutions such as negative-emissions technologies or carbon-negative cement will require the financial nurturing of nascent hardware and science technologies. This reality makes an acute funding gap particularly menacing.
We need tech + [hardware, materials, energy, biology, chemistry, physics and more] across many stages of funding (squint or click to enlarge the image):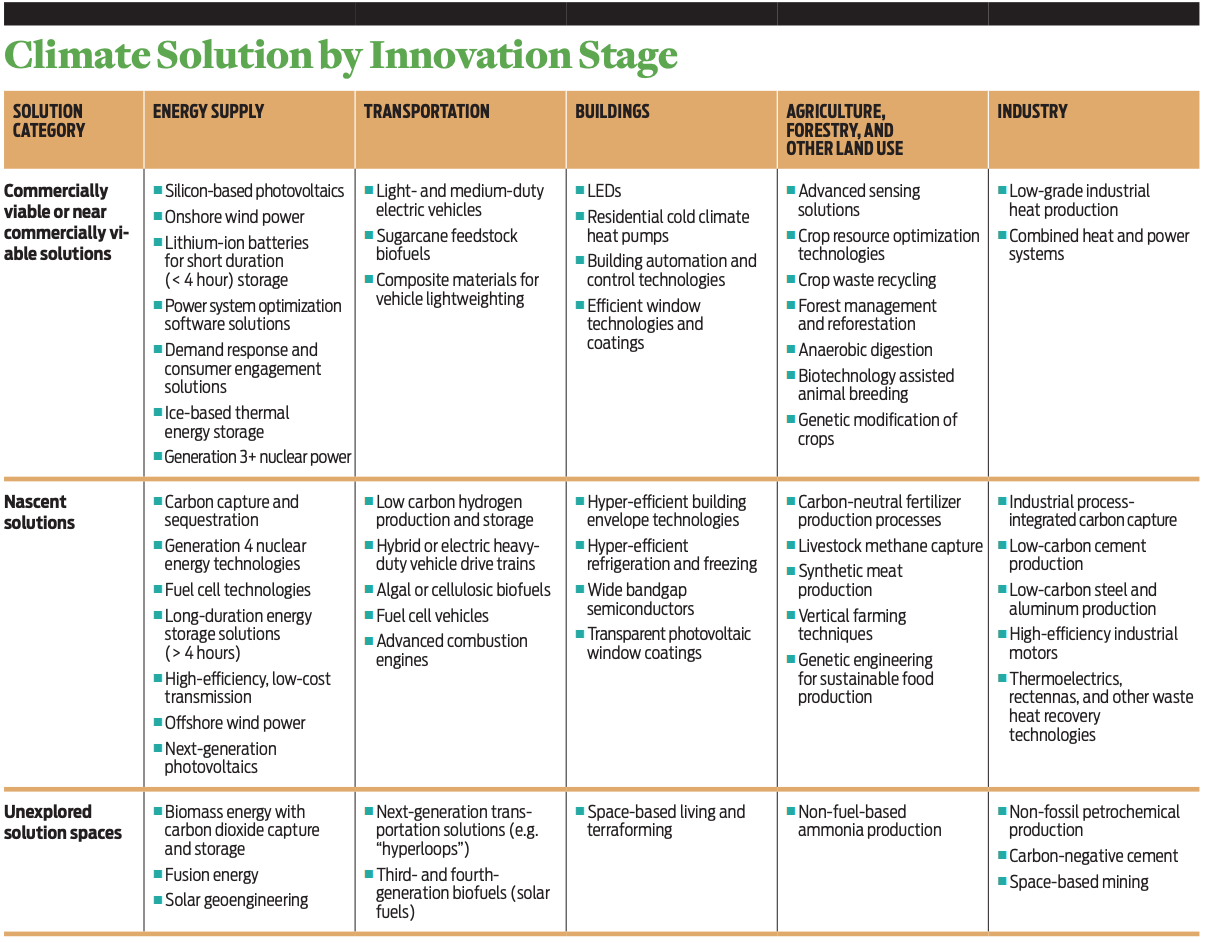 Further reading: Project Drawdown announces an updated and beautifully designed Drawdown Review for 2020.
Digital acceleration
With coronavirus changing our lives, we're seeing certain digitally-native businesses thrive. Social distancing might be our new normal. If today's new behaviors — reduced travel, fewer meeting in-person, more deliveries — persist, a range of digital companies will win.
Fred Wilson explained the ongoing shift to digital in a post yesterday:
I believe this downturn will see a greater number of winners and losers than most of the downturns I have lived through. That is because we are already into a pretty meaningful transition from an industrial/physical economy to a knowledge/digital economy and the very nature of this macro event is accelerating that transition in many ways. We just won't go back to doing some things the same way.
As these services have been helpful during the coronavirus pandemic, I expect them to play an increasingly important part of our lives through the climate crisis. I'm sure you know of many of them, and I'm linking to the less well-known ones:
Video conferencing - Zoom is having its day

Online education - YouTube, Khan Academy, Masterclass, Teachable

Streaming - video games (Xbox live, Twitch), shows/movies (Netflix, Disney+)

Food delivery - groceries (Amazon Fresh, Instacart, Blue Apron, Farmstead), meals (Doordash, Uber Eats)

Home exercise - Peloton, Tonal, YouTube (my budget pick)

E-commerce - for essentials, not for nice-to-haves

Digital finance - Robinhood, Square, Coinbase

Health & wellness - Calm, Headspace or Waking Up

Digital health - One Medical, Pillpack

VR & virtual events - still emerging (eg Teooh)
(Borrowed heavily from posts by Ed Roman, Fred Wilson and Chris McCann)
WFH special
As many of us have been cooped up this last week, I want to share a new startup that might make working remotely a little easier. It's called Around, and it's a way to make quick video calls with your team. I'm friends with the founders and an investor. If you'd like to try it, sign up, send me your email addy, and I'll add you, dear reader of The Breeze, to the fast-track list.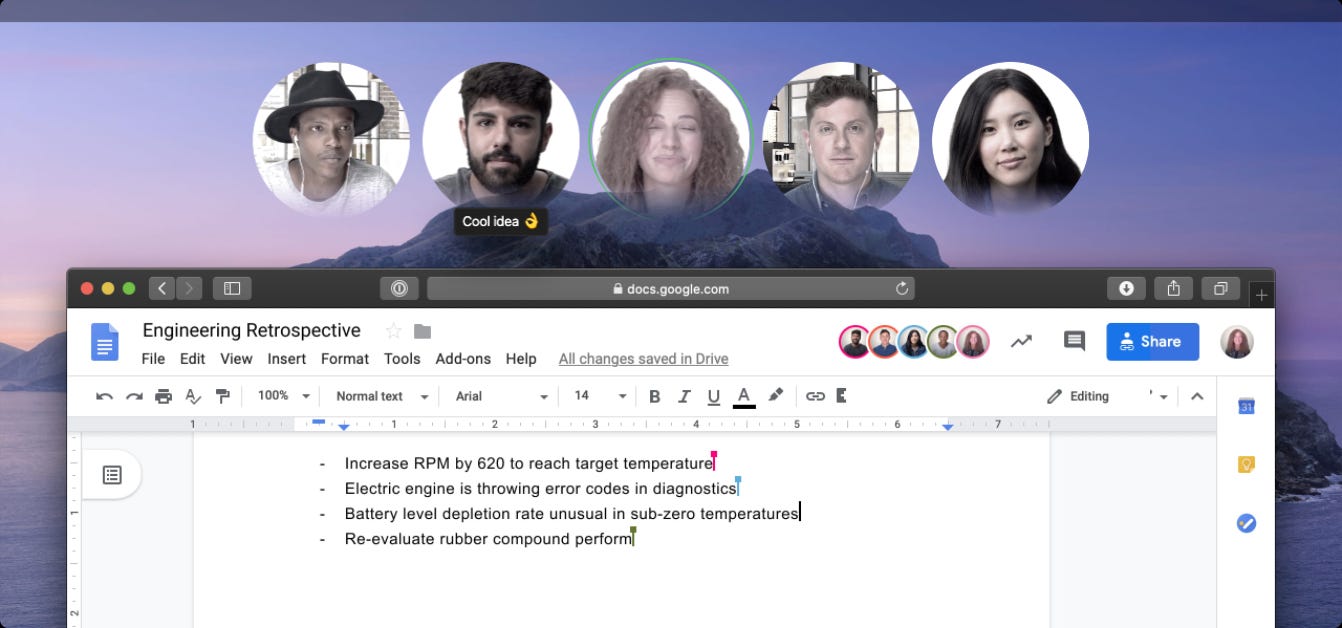 One more thing: Last week's feature, SINAI Technologies, revealed at YC Demo Day and was covered by TechCrunch.
---
Thanks for reading! Special thanks to Parker and Becky for reading drafts. You can reach me at tommy@jetstream.io.
Stay breezy,
Tommy