The Breeze - Issue #16
3 new climate tech funds: Lowercarbon Capital, Pale Blue Dot and Prime Impact Fund
The Breeze is a free weekly email about climate tech investing.
---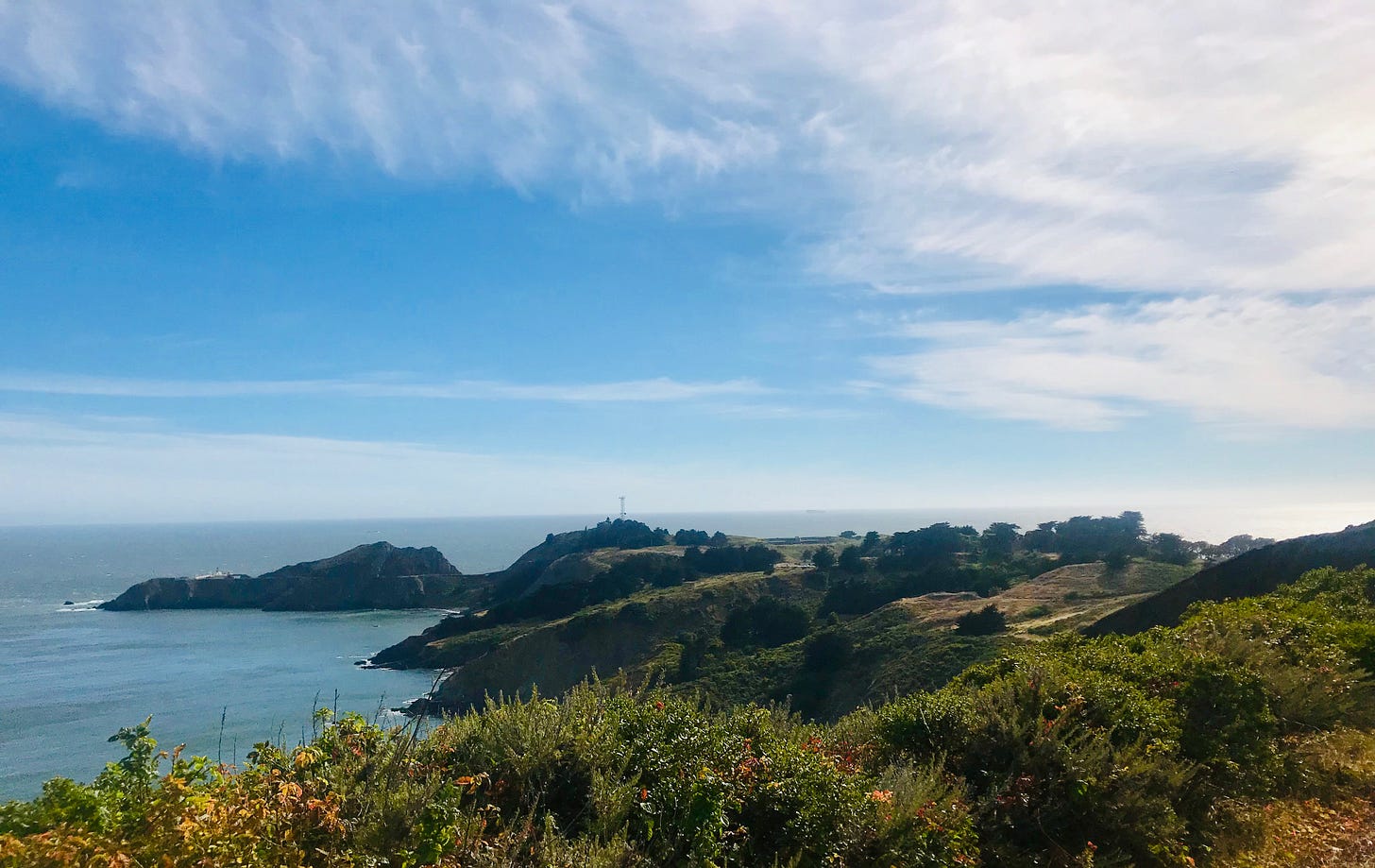 The big news in climate tech this week is that 3 firms unveiled their early-stage climate-focused funds: Lowercarbon Capital, Pale Blue Dot, and Prime Impact Fund.
As those in VC know, a lot of things have to go right to raise a fund. It's a slog. Kudos to these teams. The 3 funds are a win for our emerging climate tech industry.
I'm excited that all 3 are focused on early-stage startups because that's where we need fresh capital the most. The late-stage capital is there and growing, with big cleantech and climate tech funds like Breakthrough Energy Ventures, G2VP, and Energy Impact Partners. Some of the $1B+ mainstream tech VC firms like to get into late stage climate tech, and there's increasingly more project finance capital available like Generate's $1B fund.
The earliest part of the ecosystem is coming together too, with numerous accelerators like Elemental Excelerator, Techstars + The Nature Conservancy, YC's Carbon track, LACI, Third Derivative, Urban-X, Petri and more. CTVC has a helpful running list for reference.
What I've observed to be the hard part for startups is making the jump to the first institutional seed round. There's a funding gap here: there just aren't enough early-stage climate-focused funds yet. (I mention a handful in Issue #2.) Mainstream seed funds are dipping their toes into climate and sustainability investments, but they're still on the learning curve. If your average startup has to meet with 50 firms before getting funded, they won't get funded as there aren't 50 climate tech funds. We need more early-stage capital coming into the space for good ideas to have a shot at getting to market.
The flip side is that there's still plenty of room for new entrants. I hope that the next wave brings in diverse investors because we need to fund a diverse range of solutions to address our warming planet. I'm happy to see that all 3 of these funds are cofounded by women. I'd love to see more people of color involved. As we've discussed in the last two weeks, climate is a racial justice issue, Black and Latinx people are disproportionately affected by climate change and care more about it, and diversity in hiring leads to better outcomes.
With people like Lo Toney funding Black-led VC firms like Precursor Ventures, Kindred Ventures, and Equal Ventures out of his new firm Plexo Capital, I'm optimistic. On Wednesday Google committed $100M specifically for Black-led venture capital firms, startups and organizations supporting Black entrepreneurs. On Thursday Facebook pledged $100M to fund Black-owned businesses.
Chris Sacca of Lowercarbon Capital thinks it's an ideal time for women and people of color to be getting into VC. He sees the door opening for underrepresented investors and thinks they should take it. He and his wife are putting millions into dozens of new funds. I hope some of these follow their lead in funding climate tech (more below).
I've been fortunate to have gotten to know partners at all 3 of the newly announced funds over the past few months, and in addition to bringing in capital the ecosystem needs, they're great people too. Let's take a closer look at each one.
Lowercarbon Capital
Lowercarbon Capital was cofounded by Chris Sacca and his wife Crystal English Sacca. They are providing the initial funds, so it's technically a family office. Chris hinted at raising funds from outside LPs in the future. Clay Dumas, who previously worked in the White House during the Obama administration, is an investing partner.
It's a big deal that Chris is beating the drum for climate tech. He's a mainstream investing icon, and the technorati respect his track record. Chris is known for his previous firm, Lowercase Capital, being possibly "the best seed portfolio in history" with investments in Twitter, Instagram and Uber garnering fund returns north of 200x. He's also a fixture on Shark Tank.
Lowercarbon invests in companies that "reduce CO2 emissions, remove carbon from the atmosphere, and actively cool the planet." The manifesto on their website is worth a read. Chris believes that climate tech companies will win the in marketplace, not just as do-gooders:
We don't think guilt and shame change behavior at scale over the longterm. Instead, we will win by giving markets clean, decarbonizing options that are cheaper, faster, cooler, and easier. People who don't vote like we do nevertheless buy our stuff because it's just plain better.
Sacca's background is in software, so it's great to see the firm is also doing non-software climate solutions like hardware and materials. It sounds like it's paying off. Chris says, "Make no mistake, the deals at Lowercarbon are already generating outsized returns. Fixing the planet doesn't have to be charitable. It's good business." Read more on Axios.
Pale Blue Dot
Pale Blue Dot is a new €53M ($59M) Sweden-based fund cofounded by Hampus Jakobsson, Heidi Lindvall and Joel Larsson. The firm is investing primarily in European climate-focused pre-seed and seed startups with checks ranging from €200k ($224k) to €2M ($2.24M). The Nordics are especially interesting as a home base since they are culturally and politically very climate-forward. Norway has a mandate to electrify all short-haul air travel leaving the country by 2040. Greta started her school strike for climate in Sweden.
The firm shared a few of their investments with TechCrunch:
Phytoform, a London-based startup creating new crops using computational biology and synbio

Patch, a San Francisco-based carbon-offset API that finances both traditional and frontier "carbon sequestration" projects

20tree.ai, an Amsterdam-based startup that uses satellite data and ML to reduce the risk of forest fires and power outages
LPs include Saminvest, a big Swedish VC, the founders/employees of Supercell, Zendesk, Navision, and Unity, and VCs Albert Wenger of USV, Staffan Helgesson of Creandum, and Atomico.
I plan to catch up with Hampus this weekend for more commentary to share in next week's issue. Read more on TechCrunch.
Prime Impact Fund
Prime Impact Fund is a $52M fund that invests in climate tech startups that can achieve gigaton scale emissions reduction. The firm, led by Sarah Kearney and Matthew Nordon, started investing in October 2018. It emerged from Prime Coalition, a non-profit that sourced capital from foundations and donor-advised funds to invest in startups via a syndicate model.
Prime looks for startups that might not be a fit for traditional venture funding at the early stage, but are on a path for mainstream funding once they're growing. These include sectors like carbon capture, sustainable agriculture, process heat, and zero-emission aviation.
The fund has invested $9.1M in 10 companies so far, including these highlighted in the press release:
The fund is backed by 76 LPs including environmentalist investor Jeremy Grantham, Hollywood actors Will Smith and Jada Pinkett Smith, entrepreneur Orion Hindawi, Sierra Club Foundation, Packard Foundation, and MacArthur Foundation. Nicole Systrom of Sutro Energy Group is on the board. Read more on Bloomberg (paywall) or the press release.
---
Funding News
Copenhagen Infrastructure Partners raised $1.7B of what it aims to be a $6.2B fund focused on renewable energy infrastructure like offshore and onshore wind, solar energy, transmission grids and biomass in Europe. Read more.
Zero Mass Water, makers of a solar panel system that produces water from sunlight and air for homes and communities, raised $50M Series C1 led by BlackRock with Duke Energy, Breakthrough Energy Ventures, and Material Impact Fund participating. Read more on GreenTech Media.
MycoTechnology, developers of mushroom-based sweeteners, proteins and spices, raised $39M Series D from Greenleaf Foods, SPC, S2G Ventures, and Evolution Partners. Read more on Built in Colorado.
Urbint, providers of field safety information solutions for utilities, raised $20M Series B co-led by Energy Impact Partners and Piva with Salesforce Ventures and National Grid Partners participating. Read more on TechCrunch.
DroneBase, a market for drone operators that has expanded into monitoring wind and solar projects, raised $7.5M Series C from Valor Equity Partners and Razi Ventures with earlier backers Union Square Ventures, Upfront Ventures, Hearst Ventures, Pritzker Group Venture Capital, and DJI participating. Read more on TechCrunch.
Sollum Technologies, makers of greenhouse LEDs that reproduce the full spectrum of the sun's natural light, raised C$2.7M ($2M) Seed from Investissement Québec with previous investors Real Ventures, Alter Ego Capital, BoxOne Ventures participating. Read more on AgFunder.
💸 Invest with my climate-focused Jetstream Syndicate.
---
Trade Winds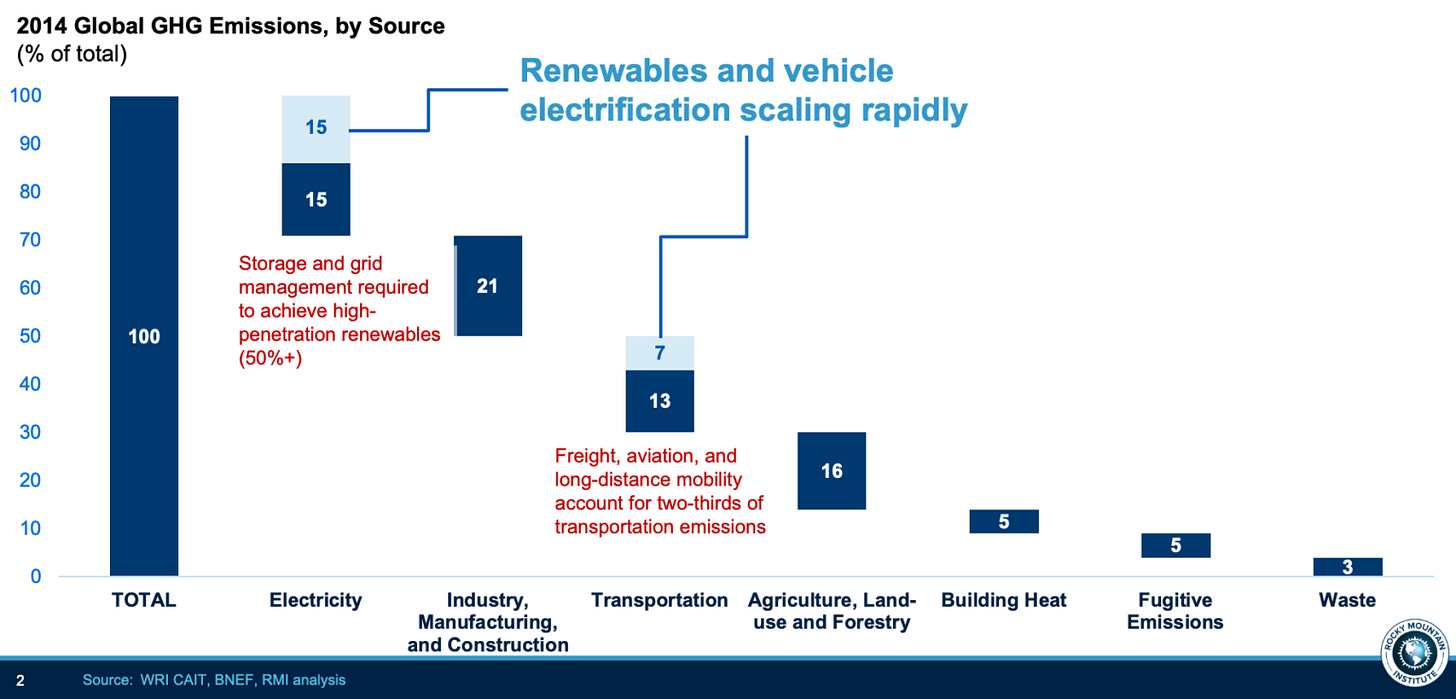 The Rocky Mountain Institute writes that we need to accelerate funding in "hard-to-abate" climate tech sectors in Why We Need Faster Climate Tech Innovation. Shayle Kann pointed out that renewables and vehicle electrification, two sectors with the most progress and attention, make up only 22% of the GHG pie.
Climate writer Eric Holthaus is publishing The Future Earth, a book that paints a new vision for our planet. I appreciate the narrative framing as I believe that we need new myths of what the world can look like beyond the divisive war metaphors that are currently popular in climate narratives.
Glenn Fee outlines a compelling proposal for a Civilian Climate Corps to enroll 5M adults over 5 years and equip them with the skills to address the impacts of climate change. (h/t Bill McKibben)
Lyft pledged to lead the transition to zero emissions by committing to reach 100% electric vehicles on their platform by 2030 in collaboration with Environmental Defense Fund.
Biotech incubator Petri opened applications for cohort 2. GALY, which makes cotton in a lab, was one of the startups in their first cohort. Read more and apply here.
Boston-based Greentown Labs announced that they're expanding to Houston to help the city "fulfill its potential as the energy transition capital of the world."
---
Thanks for reading! Special thanks to Parker and Becky for reading drafts. Photo by Mojan.
Stay breezy,
Tommy