The Breeze - Issue #11
The simulacrum, digital transformation, and life-giving purposes
The Breeze is a free weekly email about climate tech investing.
💌 If someone forwarded this to you, subscribe!
🐦 Follow me on Twitter for climate, tech and investing.
💸 Invest in climate tech with me by joining my Jetstream Syndicate.
---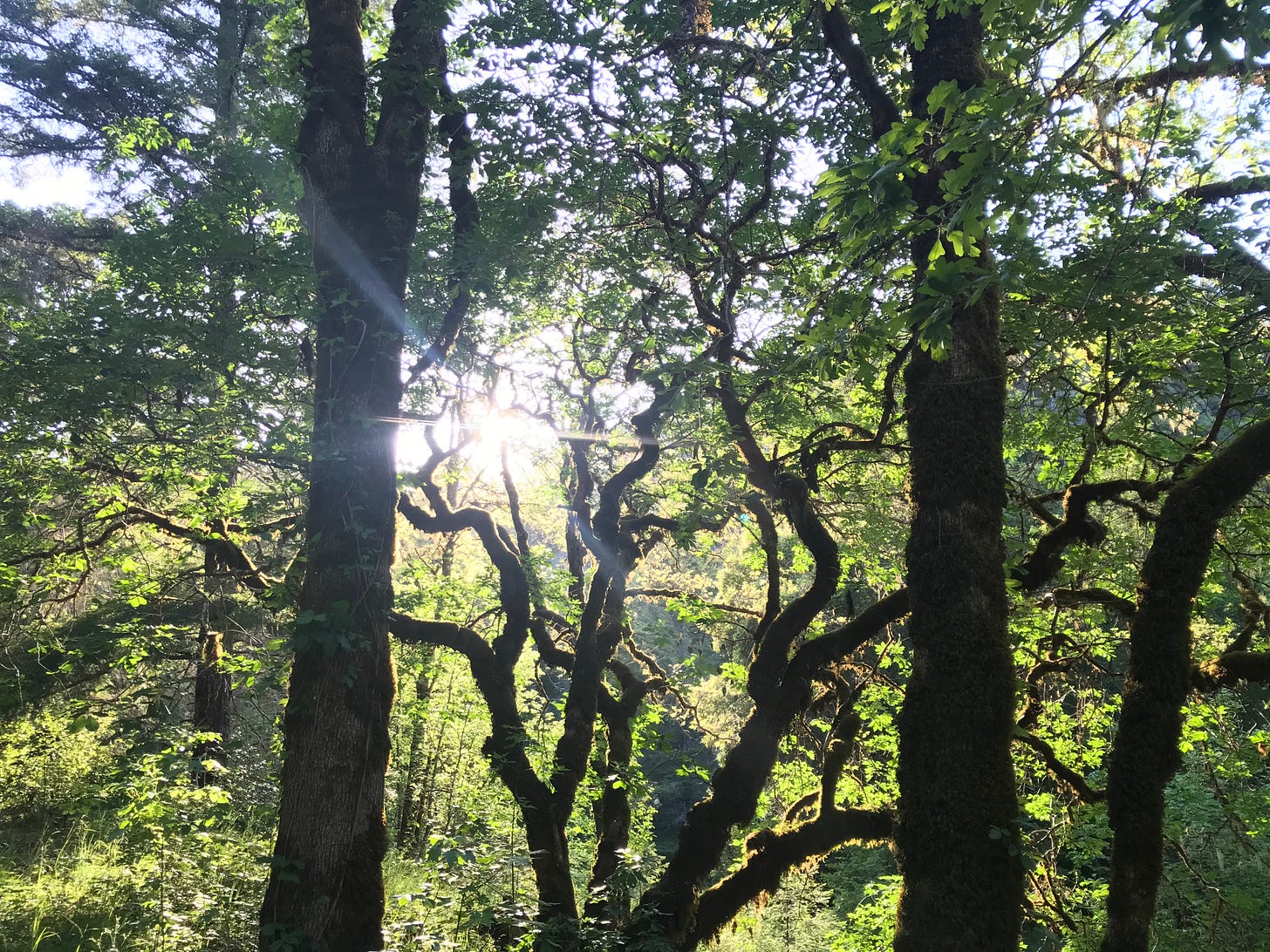 I recently heard about someone who hasn't left their house for 2 months for fear of contracting the coronavirus. It's not hard to imagine. The news is objectively terrifying.
It made me think of Parzival, the main character of Ready Player One, who locks himself into a room with a VR headset to save the day virtually. Taken further, maybe this person's computer was harvesting their human energy to power The Matrix. It strangely doesn't feel far off.
It's like the tree that falls in the forest that no one hears. If a human falls into an online simulacrum of society — a virtual copy — is the human still real? In many cities, it feels like we're in a post-apocalyptic SciFi world. Novelist Kim Stanley Robinson wrote this week that "science fiction is the realism of our time."
Over the past few months we've been moving online increasingly faster from the shelter-in-place comfort of our homes (see Issue #9). Now we're starting to see the next order effects: physical spaces like university campuses and corporate offices becoming history. Where does this take us?
All 23 California State University campuses will mostly switch to virtual classes this fall. Austen Allred, the vocal CEO of Lambda School, an online engineering program, predicts that the higher education bubble is on the cusp of bursting: as higher ed moves online, students will realize traditional tuitions are exorbitant relative to the value they provide. Students will instead pick online programs that directly help land jobs. Colleges will lose the student income they need to pay teacher salaries and maintain campuses. They'll implode, spurring more students to move online.
Twitter announced this week that employees can work from home as the new default. Amazon, Google, Slack and Salesforce have extended their WFH policies through at least the end of the year. It only takes a few big names to influence the rest of the tech industry. Since firms that favor remote work have a competitive advantage in hiring, others will have to adapt the practice to compete for talent.
I don't think there's any stopping these two trends. They're net positive: they broadly enable access to learning and working from anywhere. But it does make me wonder about the next-order effects of detaching from physical reality.
We can make dinner appear with a few taps of the Doordash app, yet we don't know where our food is from.
We can farm with friends in the popular new video game Animal Crossing, but we can't play outside in the city park.
The accelerated digital transformation of society is distancing us even more from the natural world.
As we move our physical lives to digital equivalents, we must check our actions against our priorities. My hope is that we realize what we miss and what we've taken for granted. For me, it's things like clear air outside the city, seeing sunlight stream through the woods, hearing birdsongs on hikes. And of course, seeing and hugging family and friends. None of it is promised to us.
The default is to do nothing and let social pressure decide: we go with what's easiest, fastest, cheapest. It's easier to eat fast food than local produce. It's faster to take a car than the bus. It's cheaper to buy plastic than sustainable materials.
We can instead choose to allocate our resources to life-giving purposes. We can invest in preserving nature, making renewable energy abundant, eliminating emissions and plastic waste, and recognizing the sanctity of our earth systems of water, land, and fellow living organisms.
We can stream a Netflix documentary millions of times to living rooms all over the world. But when the last elephant dies, that's it. There aren't infinite copies of physical elephants.
As we start to come out of the pandemic, we need a new way to internalize the value of our physical world in our economic and social systems. Don't lose sight of the real world around you amidst the explosion of digital services at your fingertips and face ID.
We can deliberately decide what we want to accelerate out of this shift. It's a good time to ask what you've missed and what's important to you.
---
Funding news
IRP Systems, makers of electric powertrain systems for EVs, raised $17M Series B led by Fosun RZ Capital with JAL Ventures and others. Read more on SiliconAngle.
Span, makers of smart electrical panels to upgrade the fuse box, announced a $10.1M raise from February led by ArcTern Ventures with Capricorn Investment Group, Incite Ventures and earlier backers Congruent Ventures, Wireframe Ventures and Ulu Ventures. The company was founded by former Tesla exec Arch Rao. Read more on TechCrunch.
VanMoof, an e-bike company based in Amsterdam, raised €12.5M from Balderton Capital and SINBON Electronics. Read more on TechCrunch.
Ecoinno, makers of plant-based dishware and coffee capsules, raised $6M Series A1 from Alibaba's Hong Kong Entrepreneurs Fund and Taiwan Entrepreneurs Fund II. Read more on AgFunder.
Ettitude, markers of sustainable bedding and sleepwear from bamboo fibers, raised $1.6M Seed from Drumbeat Ventures and TA Ventures. Read more on TechCrunch.
Transect, which helps the energy industry and others identify and plan for environmental risk, raised $1.5M Seed led by Blue Bear Capital with Holt Ventures and Gary Horn. Read more.
Plant-based alternative proteins raised $741M in Q1 2020, nearly as much in one quarter as the $747M in all of 2019. Read more on AgFunder.
The Stanford Energy Ventures course has produced 16 startups that have received $33M in funding over the last 4 years.
UK Transport Secretary Grant Shapps announced a £250M emergency active travel fund for pop-up bike lanes with protected space for cycling, part of £5B of funds for cycling and buses in England.
---
Trade Winds
Ramez Naam forecast the rapid decline in the cost of solar energy a decade ago. It's even cheaper than he expected: solar is less than half the price he predicted, and less than a quarter from the IEA's best guess. Check out his thorough analysis, Solar's Future is Insanely Cheap.
Matt Eggers started a follow-up discussion with the apt question: "What crazy stuff will you do when you have power for $0.01/kWh?"
Michael Pollan uncovers the fragility and politics of our food supply chain in a brilliant essay, The Sickness in Our Food Supply. (h/t Scott Nuzum)
Gabe Kleinman of Obvious Ventures challenges the VC industry to refocus on vision, purpose and impact in Venture Capital Needs a Complete Reset. He calls for a decarbonized economy, inexpensive and accessible health care, disease cures and plant-based food.
Warren Buffett regrets his $10B oil bet of purchasing Occidental Petroleum shares. He should be pleased that the Gemini Solar Project, the U.S.'s largest solar installation, which he backs, received federal approval. (h/t Jessica Eastling)
Stanford researchers are working on wirelessly charging EVs. (h/t Dynamo Dispatch)
US emissions could fall up to a record 11% this year, with renewables overtaking coal, according to Energy Innovation.
April 2020 tied for the the hottest April on record. There's a good chance 2020 becomes the hottest year since we started tracking in 1880. (h/t Bill McKibben)
Mike Maples explains how startups need breakthrough insights in a stellar interview on Twenty Minute VC with Harry Stebbings.
Science Fiction novelist Kim Stanley Robinson explores the impact of coronavirus on society, climate and our future in The Coronavirus is Rewriting our Imaginations.
---
Thanks for reading! Special thanks to Becky for reading drafts.
Stay breezy,
Tommy